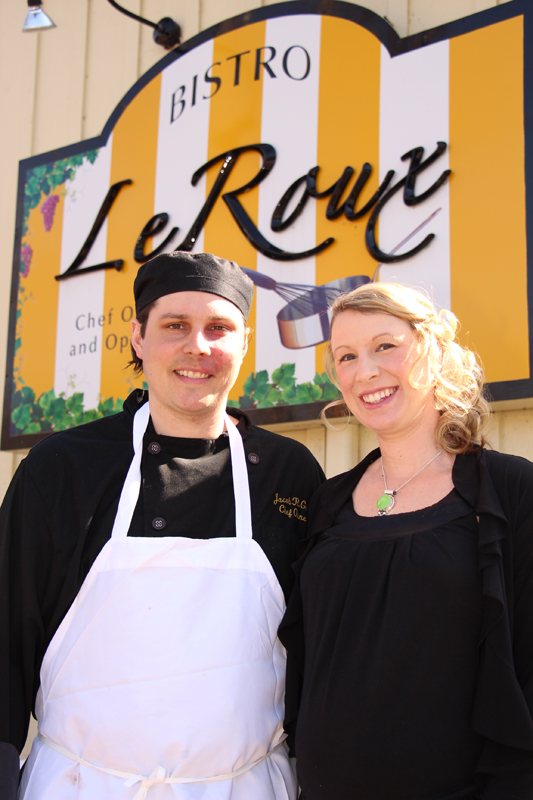 The name Bistro LeRoux finds its origins in both cuisine and the chefs' family history.
Roux is a thickening agent used for preparing sauces in classic French cuisine, while LeRoux is last name of Chef Jake's great-grandfather, Roland LeRoux.
At the age of 13, Roland moved from Moose Creek, Ontario to the states to work on a dairy farm. This brave young man sought out on an adventure that would build the foundation for a family in love with the Adirondacks.
It is in the spirit of honoring their family, their diverse culinary education, and their love for adventure, that Chef Jake and Chef Tiff proudly present Bistro LeRoux.
Its menu offers sophisticated Adirondack Cuisine made with only the season's freshest ingredients. Items range from its Veal Osso Bucco, to its Grand Marnier Bur Blanc Grilled Salmon. Bistro LeRoux is proud to also offer half-plate options to suit any appetite, and well as gluten-free and vegetarian meals. A full menu, including a children's and dessert menu, can be viewed on this page.
And while great food is an excellent start, Bistro LeRoux has the unique ability to offer several different dining experiences.
The Chef's Room allows diners to see into the open kitchen and watch the chefs work their magic in front of the beautifully ornate wood fired brick oven.
The Sports Bar boasts a full selection of beer, liquor, and an extensive wine list representing seven different countries.
The Culture Room displays artwork from around the world in an intimate setting that offers seating for anywhere from two to twenty.
Nestled in the far corner of the restaurant, the National Parks Room offers décor that pays homage to the many travels Chef Jake and Chef Tiff have experienced throughout the country. The room offers great privacy for larger groups, and an excellent setting to inspire adventure.