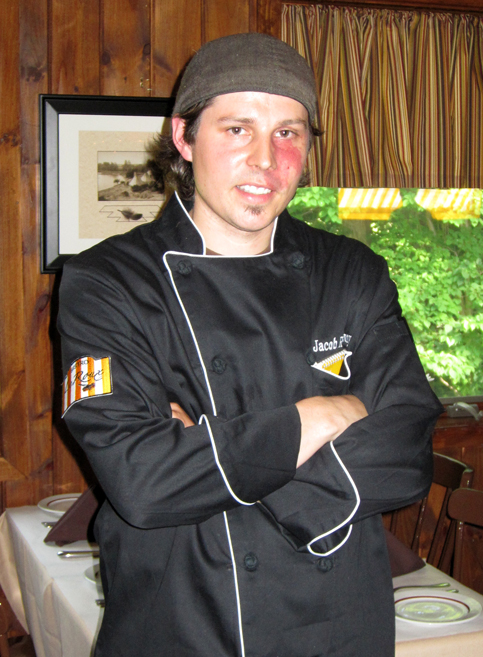 Executive Chef Jacob Guay
For Bistro LeRoux's owner and executive chef, Jacob Guay, the culinary arts have always been a mixture of family, adventure, and appetite.
It is in the same spirit he and his wife, Chef Tiffany Guay, proudly present Bistro LeRoux — the culmination of their two decades of culinary experience.
Chef Jake grew up just down the road from Bistro LeRoux, on Copeland Pond. He skateboarded the Fort Ann country roads, caught fish and swam in its waters, and grew into a young man with a deep love for the outdoors, music, and his family. He graduated from Fort Ann High School in 1997.
Chef Jake began his career in food service in 1999, washing dishes at the Woodstock Inn in Vermont, where his uncle, Tom Guay, was executive chef. He was quickly promoted to pantry chef by 2000. For Chef Jake, watching his uncle gave him newfound inspiration.
"It was the place that inspired me to become a chef. It was fun and exciting; I didn't realize food like that existed. There was something about working in a kitchen that felt real," Chef Jake said.
In 2000, Chef Jake took his experience, packed it up alongside his desire to travel the country, and headed for Yellowstone National Park. He met his wife shortly after while both were working as breakfast cooks, and a culinary team was born. From 2000 -2003 the duo held leadership roles in several parts of Yellowstone, including the historic Old Faithful Inn, the Snow Lodge, Mammoth Hot Springs, and at the Lake Hotel.
"LeRoux customers can expect to see a little bit of Yellowstone on their plate because in every kitchen you learn new techniques and flavors. I was in charge of the daily specials there and this is where I first experimented with food," Chef Jake said.
The team also lent their expertise to the Sagamore and Villa Napoli, on Lake George, NY. Chef Jake was the first chef of the Sagamore's Pavallion, and worked within the Trilium, helping compose menus, experimenting with flavors, all the while constantly surrounded by great chefs.
Yet, despite all his hands on experience, Chef Jake still had the desire to learn more. He is a proud graduate of the Culinary Institute of America, achieving the title of Chef in 2006. During his studies, Chef Guay spent countless hours defining his palate and studying traditional and modern cuisine. While enrolled in CIA, he was invited by the Stein Eriksen Lodge to help execute a dinner at the renowned James Beard House in New York City.
"I felt very proud to be an elite CIA grad," he said.
As part of his schooling Jake decided to complete his externship at the Stein Erikson Lodge in Park City, Utah. It was here he learned of the Lookout Cabin at the Canyons Resort.
Chef Jake and Chef Tiff decided to become part of the Canyons Resort team to take advantage of the mountain's snow and scenery. They were hired as line cooks at the Lookout Cabin, but were quickly promoted to the titles of Chef Jake, Mountain Executive Chef and Chef Tiffany, Lookout Cabin Executive Sous Chef.
Under their direction, the restaurant and resort soared to new heights. The Lookout Cabin was featured in several prominent publications, including Vanity Fair, Wine Enthuses, and TransWorld Snowboard, Ski Magazine. Live television interviews with Chef Jake were aired on PCTV, and The Chicago Tribune and Salt Lake City Weekly called for interviews and recipes.
"I had free reign at the Canyons to develop menus, hire and surround myself with like minded cooks," Chef Jake said.
Some of Chef Guay's signature dishes included his Baked Utah Goat cheese with a cherry Kirsch Fondue, grilled Alaskan Salmon with a miso honey glaze and a jicama beet slaw with creamy polenta.
Despite all his success, for Chef Jake, something was still missing. Half way across the country, he watched his loved ones grow in photographs and online. So, when the opportunity to return home and open a restaurant emerged, he and Chef Tiff jumped at the chance.
"What can I do at Bistro LeRoux that I haven't been able to do at any other restaurant is cook food for all my friends and family," he said.
"I've brought some of my staff with me from the Canyons, including my sous chef, Alain. I came home to run a family business and be part of something big. I came home to watch everyone grow old, and to spend time with the people that I love," he said.
And while he's already part of big family rooted locally, Chef Jake is excited to share his family pride with others.
"I want people to come to Bistro LeRoux and see our family's name and have a great experience. Every dish on the menu is a compilation of flavor that I have picked up along my culinary adventure."
And at Bistro LeRoux the Guay family adventure continues.