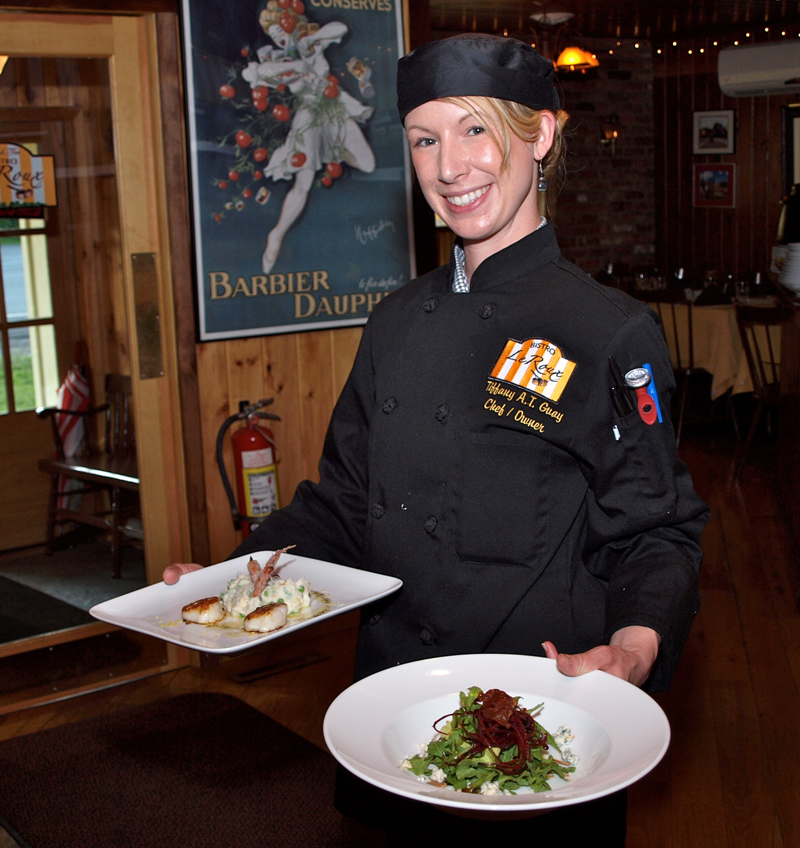 Chef Tiffany Tolene Guay, proud co-owner and chef of Bistro LeRoux, is the dynamic and energetic force behind some of the restaurant's most creative dishes. Placing her culinary emphasis on eating well to feel well, Chef Tiff finds her inspiration through balancing fresh herbs and spices, and using local and seasonal produce.
[blockquote]"I made a choice early on that I wanted to cook for optimal health. My focus is on the people here and now. To me, your refrigerator is the medicine cabinet in which we choose our ingredients to heal with," she said.[/blockquote]
Born in Harrisburg, PA, Chef Tiff lived in a busy home with seven siblings. She was given freedom to make healthy life choices, and her passion for food developed as she learned to prepare it on her own. She chose a fitness-rich vegetarian lifestyle that has guided many of her life choices since the age of 16.
Though she is no stranger to preparing and tasting meats of all variety, Chef Tiff said vegetarianism has been extremely beneficial and a real inspiration behind many of her signature dishes. Bistro LeRoux's Tofu Pad Thai, with noodles spun from fresh squash, can attest to her creativity and passion.
Coupled with her love for eating well to feel well, Chef Tiff also celebrates a unique spirit for adventure and the outdoors. At the age of 19, she hopped in a freshly flower-painted van with little more than a loaf of bread, jar of jelly and of peanut butter, and drove from Harrisburg to Yellowstone National Park. Little did she know, just weeks later she would meet her husband.
At 21, Chef Tiff attended the Institute for Educational Therapy in the small town of Cotati, in the heart of California's Wine Country.
"It was there that I learned about catering, being a private chef, and a personal chef in an all natural manner, specific to one's health needs.," she said. She graduated with the title of Natural Chef.
At 25, Chef Tiff worked at the prestigious Omega Institute in Rhinebeck, NY, where she ran vegan and vegetarian banquet-style meals for patrons of the holistic retreat center.
Chef Tiff said much of her diverse culinary education has come from the many seasonal restaurants she has had the benefit of working in while travelling the country with Chef Jake.
[blockquote]"The glorious thing of cooking seasonal is you get to constantly cook new things, and learn to be inspired by the season. We've taken the best of all that experience and put it into Bistro LeRoux's menu," she said.[/blockquote]
The duo have held leadership roles in several parts of Yellowstone National Park in Wyoming, including the historic Old Faithful Inn, the Snow Lodge, Mammoth Hot Springs, and at the Lake Hotel. They have lent their expertise to the Sagamore and Villa Napoli, on Lake George, NY, as well as in Steamboat Springs, CO.
Their most recent success has been at the Canyons Resort in Park City, UT.
"Over the last five years I have excelled at the Lookout Cabin Restaurant (at the Canyons Resort). I was originally hired as a bar tender and line cook. The next winter, Jake and I came back as line cooks, ready to enjoy the best snow on earth. Steve Hansberger, the Food and Beverage Manager, saw our skills and enjoyed our attitudes. And soon Jake and I were running the Lookout Cabin like it was our own," she said.
They were promoted and given titles of, Chef Jake, Mountain Executive Chef and Chef Tiffany, Lookout Cabin Executive Sous Chef. Under their direction, the restaurant soared to new heights. It was featured in several prominent publications, including Vanity Fair, Wine Enthuses, and TransWorld Snowboard, Ski Magazine. Live television interviews with Chef Jake were aired on PCTV, and The Chicago Tribune and Salt Lake City Weekly called for interviews and recipes.
And while the couple enjoyed their success, the pair knew that for them real success in life meant being closer to their family.
[blockquote]"We really loved it where we were. We loved the snow and the mountains, and the people we were working with were really great. But the only thing missing was our family. Even with all the amazing things we were experiencing, we still felt like we were missing out on so much," she said.[/blockquote]
So, the couple packed their belongings along with their two-decades of collective experience and returned to the North Country to share their next adventure with all of us.
Chef Tiff, along with Chef Jake and the entire staff at Bistro LeRoux. eagerly await your company.